17 Aug
Clinical trial continuity in NZ: Optimal Clinical Trials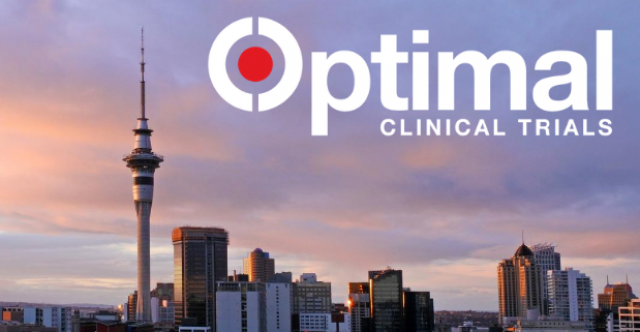 Extracted from Optimal Clinical Trials EDM – 17th August 2020. Published with permission.
New Zealand has been COVID-19 free for 102 days but there are now new community transmitted cases
Auckland is in Alert level 3 from Wed 12 Aug until 11:59pm Wed 26 Aug
Rest of New Zealand is at Alert level 2
Fast response from government
Clinical Trials are considered an essential business in New Zealand and trial activity continues across all alert levels
Details for Optimal Clinical Trials' activities are below
After 102 days of being COVID-19 free, New Zealand has a new outbreak. As at 9am Saturday 15th August 2020 we have 56 active cases, 17 of which are due to the new outbreak and the rest are imported cases. All are in managed isolation. Since the beginning of the pandemic New Zealand has had 1609 total confirmed and probable cases with 1531 recovered and 22 deaths1.
The New Zealand government has responded swiftly and as of Wednesday 12 August 12 noon Auckland has been moved to Alert level 3. The rest of New Zealand is at alert level 2. This will stay in place until 11:59pm Wednesday 26 August.  The Government aims to keep the economy going while prioritising peoples health.
Whilst this is regrettable we have been planning for this and have swung our plans into action. We continue to prioritise safety but also to continue operations and keep your studies moving.
Optimal Clinical Trials is considered an essential business by the New Zealand Government and so can continue to operate at all alert levels.
Below is a table detailing operations at each alert level. Our team will be in touch with you to keep things moving for existing studies and studies in start up. We will continue to communicate with you.
Please stay safe and we look forward to continuing to work with you.
Dr Barney Montgomery
Managing Director
Optimal Clinical Trials
1source: https://covid19.govt.nz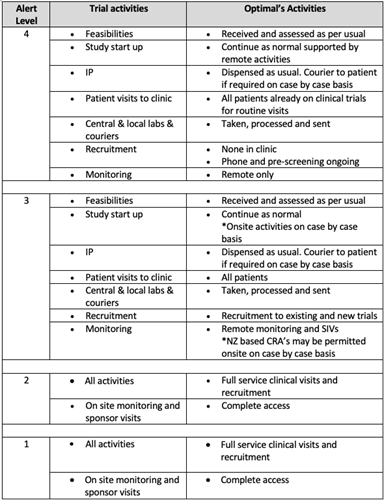 Further Information
Clinical Trial Landscape
Clinical Trials is considered an essential business in New Zealand and trial activity continues across all alert levels. Optimal and many other sites are set up to conduct trials with in clinic visits as well as virtual trials.
Ethics & Regulatory approval
New Zealand's online application and approval system is fully operational, with approval times within 35 days. An expedited process has been implemented to approve COVID-19 research much more quickly.
Monitoring & Start up activities
Monitoring and start up activities continue – with New Zealand offering both on site remote support.
Local laboratories & imaging facilities
Private laboratories and radiology providers continue to support clinical trial activities.
Transportation & logistics
New Zealand borders remain open to freight, ensuring that IP supplies reach sites, and central laboratory specimens are delivered to overseas laboratories. Local couriers and transportation services remain operational at ground level, ensuring timely delivery of temperature sensitive supplies, dry ice etc.
 Recruitment & participant visits
Under all alert levels essential safety visits continue.
Brief information about New Zealand and Optimal Clinical Trials
NZ is part of Asia-Pacific: The world's fastest growing clinical trials region.
Low rates of COVID-19 infection.
Fast and straight forward regulatory and streamlined ethics system- reducing start up time.
No IND required
High quality medical care
Politically stable
Population 4.8 million. Auckland is the largest city with population of 1.5 million.
Compliant with safety measures regarding COVID-19
We are keeping clinical trials running
Please contact us for more information about conducting you research in New Zealand. Or, click here to get your free guide: "Successful Clinical Trials: How to accelerate your clinical program; get your first patient in quickly and meet your clinical trial milestones"
New Zealand wants to help
Dr Barney Montgomery
Managing Director
barney@optimalclinicaltrials.com    ||    +64 21 951 954
Dr Liz Smaill
General Manager
liz@optimalclinicaltrials.com    ||    +64 21 538 865
Optimal Clinical Trials
P O Box 47476, Ponsonby, Auckland 1144
2nd Floor, 97 Grafton Rd, Grafton, Auckland 1010, New Zealand
P +64 (9) 303 4987 | F +64 (9) 379 6582
www.optimalclinicaltrials.com

About Optimal Clinical Trials
Optimal Clinical Trials: We are people on a mission – to reduce suffering and help people around the world gain a better quality of life through research.
 
We are a private, independently owned clinical research site in Auckland (population 1.5m), New Zealand's largest city. We have grown rapidly and won multiple awards.
 
We specialise in conducting commercial phase 1b to 3 non-oncology trials. We have a wide range of therapeutic areas with our expert investigators and specialists.
 
We regularly work with the world's largest pharmaceutical companies, CRO's and many biotech's. We are known for our speed, quality and responsiveness to client's needs.
 
The safety of our patients, staff and partners is our primary concern and we continue to maintain our extensive safety measures to minimise possible transmission.