30 Aug
Quality, Speed and Cost – Where can clinical trials deliver all three?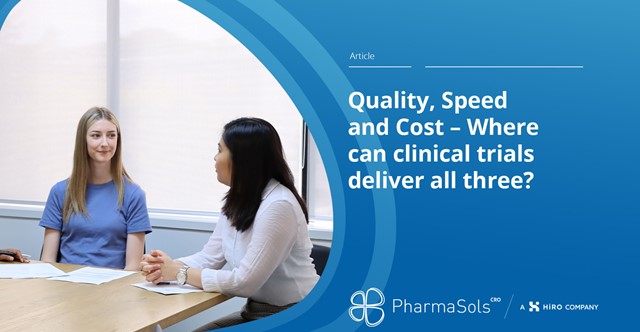 Australia and New Zealand are considered the go-to place to conduct clinical trials for an increasing number of global sponsors. That's not surprising as the region generates high-quality clinical data while being time- and cost-effective. 
The ANZ region is home to some of the world's best researchers, health professionals, high-quality research units, streamlined ethics and regulatory environments, and attractive tax incentives. The region's research network is experienced in a wide range of therapeutic areas and trial phases. Both countries' governments support clinical research initiatives and actively encourage the conduct of clinical trials. 
Trials conducted in Australia and New Zealand benefit from a spectrum of positive aspects. Our dynamic and unique research environment enables fast, cost-effective clinical trials while generating high-quality data. 
Significance of high-quality data
We know that the ANZ region generates high-quality clinical data, but why is this important, and how does it differ from other regions? 
The high-quality data generated from clinical trials conducted in Australia and New Zealand can be widely accepted by all major international regulatory bodies, such as the FDA and the EMA, as part of regulatory applications. Sponsors can use the clinical data generated in this region to support their later phase trials worldwide. 
Rapid and cost-effective solutions
Let's break it down further and better understand how quality data can be generated while being time- and cost-effective. As mentioned above, the ANZ region has one of the world's most streamlined ethics and regulatory environments. Additionally, the ANZ region does not require an IND application to conduct clinical trials, saving up to a year in regulatory timelines and considerable costs for the sponsor. By leveraging these streamlined processes, sponsors can achieve rapid study start-up timelines to start clinical trials in as little as 35 days. 
ANZ's streamlined application process, and the fact that full GMP material is not mandated for phase one clinical trials in this region, significantly reduces the sponsor costs. The Australian 43.5% tax incentive available also acts as a cherry on top for these sponsors. 
The ANZ region's ability to be time- and cost-effective while generating high-quality data attracts global sponsors. 
Using ANZ as an advantage 
Now how can biotechs use this knowledge about the ANZ region strategically in the clinical development of their products? 
Global sponsors come to Australia and New Zealand to conduct early phase clinical trials. This allows the sponsors to generate high-quality clinical data while being time- and cost-effective. This quality data can then be used in other regulatory applications, such as the pre-IND, to further support the sponsor's application and conduct later-phase clinical trials globally. Through this strategic move, a biotech can streamline the clinical development of its product by conducting early phase clinical trials in ANZ while finalising regulatory applications with the FDA and EMA for later phase clinical trials.
ANZ's rapid approval process provides the opportunity to support parallel applications to FDA with data collected from an earlier approved ANZ trial. 
How PharmaSols can support your trials
PharmaSols firmly believes in 'Quality Without Compromise'. We want to ensure we are always ready to support our clients in collecting quality data from their clinical trials, and this starts by upholding quality within our firm. 
PharmaSols is internationally IAOCR accredited and has an internal EMS Audit. We have established quality systems in compliance with local and international regulations. PharmaSols also has a dedicated and highly experienced QA manager who ensures the quality is upheld. From external audits between 2017-2020, PharmaSols have had 0 critical findings, speaking to the value we place on quality.
In addition to this, PharmaSols has specialised knowledge and relationships in the region to help sponsors to effectively navigate through the regulatory environments and successfully complete their clinical trials to ensure quality data. 
PharmaSols' dedicated in-house start-up team and regulatory experts employ highly efficient processes to capitalise on Australia and New Zealand's ethics and regulatory timeframes, helping sponsors achieve rapid study start-up timelines.  
Our industry relationships and established site networks help us deliver, and even overachieve, our patient recruitment and retention targets – enabling the generation of quality data. A recent example of PharmaSols' ability to recruit effectively – we achieved final recruitment of 204% of the initial target in only 26 days. 
PharmaSols
PharmaSols is uniquely positioned in Australia and New Zealand, one of the world's most trusted and rapidly growing clinical trial regions. With over 20 years of experience in this region and a team of dedicated experts, we support sponsors to collect high-quality data from this region. 
In addition to this, PharmaSols takes a creative problem-solving approach, has a trusted network of experts, and maintains a people-driven attitude, so you can be confident that your trial will remain on track and meet its targets.