12 Dec
HiRO – an emerging full-service global CRO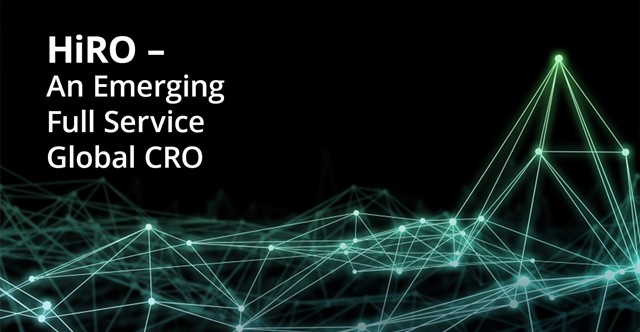 Last year we announced that PharmaSols was acquired by global CRO, Harvest Integrated Research Organisation (HiRO). This meant we were able to offer a larger global network, stronger leadership and investment in market-leading integrated systems and processes. This month we will discuss a bit more about our parent company HiRO – their values, vision, service offerings, partnerships, and end-to-end specialised clinical trial solutions.
HiRO is an emerging full-service global CRO offering biotechs rapid, cost-effective, and reliable clinical trial solutions to fit their specific needs.  
Many biotechs and drug manufacturers are hindered by limited resources and expertise, struggling to meet the speed and cost of clinical trials required to bring their products to market on schedule or faster than the competition. HiRO delivers accelerated commercialisation pathways to global biotech and pharma by providing innovative end-to-end clinical trial solutions.
HiRO's unique East-West geographical reach and global vision will enable it to continue being a leading CRO that supports biotechs of all sizes in reaping the benefits of having a Global Partner.
HiRO is dedicated to providing its sponsors with speedy and economical clinical trials through its project management, quality audits, and strategic planning services. It assists clients in opportunity assessment, funding, global clinical trial design and clinical development planning (CDP), and efficient implementation, all the way through to commercial launch.
HiRO is people lead, cost-effective, and quality solutions. We are committed to serving clients that wish to conduct clinical research and development in the United States and Asia Pacific. It is critical for biotechs to fully understand global complex medical requirements and regulatory pathways – HiRO provides customised support at every step of the way.
Headquartered in Shanghai, the company currently has offices in Beijing, Taipei, Australia, New Zealand, and the Philippines and is looking to expand into the US-CRO market through targeted acquisitions as part of increasing its global presence.
Driven by technological progress, favourable government policy changes, and increasing investment in research and development, the global biopharmaceutical market is positioned to grow rapidly and HiRO's unique East-West focus with a highly experienced team and global vision positions HiRO to grow into a leading global CRO, providing global biotech and pharma with a new global CRO partner.
The traditional key pain points for biotechs continue to be around speed, cost and patient recruitment – HiRO provides a solution to all of these!
HiRO's one global team approach, experience and depth of local networks unleash the power of our people to rapidly deploy studies and manage complex changes during study execution. We focus on the delivery of high-quality and cost-effective global solutions to identify the right team, the right geographic region and the right sites to deliver successful trial outcomes.

With HiRO patient recruitment is the core driver in the planning stage of every clinical trial. FDA is seeking diversity in clinical trials. Solely collecting data from only one country is no longer considered ideal when sponsors are looking for overseas regulatory approvals. Following recent high-profile FDA marketing application rejections, where the FDA ruled that overseas single-country trials did not meet its criteria regarding foreign data, there is an emerging trend for sponsors to implement multi-regional clinical trials over single-country trials.
Typically, biotech companies understand the hurdles that limited resources can bring to their drug discovery and clinical trial operations. HiRO accelerates decision-making for such companies with the agility required to effectively traverse the ever-evolving drug development arena. We offer knowledge-based consulting, from the beginning of the early stage to help sponsors find the best way to proceed. HiRO also provides awareness of the capital market to boost fundraising opportunities for relevant stakeholders.
"We are considered a boutique CRO. We cater to SMEs and multinational organizations seeking to do cross-border regulatory submissions/applications and clinical trials execution by providing knowledge-based consultations that offer real value" says Karen Chu, CEO of HiRO.
HiRO offers a broader service model than the traditional "full service" project management and clinical trial monitoring provider. This competency is facilitated through HiRO's proven approach that simplifies and accelerates trial processes through a network of top CROs executives and the adoption of innovative technologies.HiRO's "one global team" model is driven by a dedicated team of experts committed to providing rapid, reliable, and cost-effective solutions.

The team facilitates a tailored-made client experience with a high level of interaction. It leverages its flexibility and agility to help biotechs manage various international requirements and regulations avoiding conventional hurdles.
Through its vast experience and collaborative approach, with local and global partners working hand-in-hand with clients, HiRO supports biotechs in navigating the complex journey from laboratory to commercialisation.
Concurrently, HiRO's global reach across the Asia Pacific and the expansions to the U.S. and EU enable it to be a reliable partner for biotechs and pharma firms seeking to establish a footprint in these regions and maximise their access to patients.
Recognising the need to simplify and accelerate trials, through our networks, partnerships and the adoption of new technologies, HiRO offers a wider service model than the more traditional "full service" project management and monitoring of clinical trials. Our unique approach provides our customers with a more comprehensive, flexible range of solutions.
By working collaboratively in the early development phase of a new product, HiRO supports biotechs to navigate the complex journey from laboratory to the patient; planning and opportunity assessment, funding, global clinical trial design and implementation, through to commercial manufacturing. Biotechs often do not have the resources, capacity or expertise to make it happen. HiRO's global team of experts has the experience, the ability and the local and global networks to support biotechs through their entire product journey, working together "hand in hand" every step of the way.
The international clinical trial landscape is complex and ever-changing. HiRO offers a unique combination of local expertise and an international mindset to deliver cross-border, cost-effective solutions. With its headquarters in Shanghai and global footprints across Asia-Pacific, the US and Europe, HiRO is well positioned to support biotech and pharma looking to access these regions to conduct global clinical trials.
HiRO is the new global CRO solution – "just the right size". The global CRO market is currently dominated by a few very large global CROs. These larger organisations are often tied to concrete processes, sacrificing innovative problem-solving and customer service. The scale of these global giants simply does not match the size of the smaller biotechs they service.
HiRO's smaller "one global team" model is driven by a dedicated team of experts, committed to providing more rapid, flexible, cost-effective solutions. The HiRO team provide a more tailored experience with a high level of interaction and focus on each unique clinical trial. Our people deliver successful clinical trials.
The global HiRO team, with on average over 20 years of industry experience, means that sponsors are working with some of the best in the industry. The HiRO team comprises the right people, with the right attitude and capabilities, drawn from an ideal combination of scientific, academic, and operational understanding. The HiRO team understands the depth of each local region's clinical trial landscape. Personal relationships are important—it is essential to work with good people. HiRO fulfils its goals by relying on its experienced management team that boosts the day-to-day
operations by acting as executives and sponsors to oversight the quality of projects. At the same time, it offers cutting-edge training to its clinical research team, improving their productivity and enabling highly collaborative engagement with customer' teams.
By partnering with sponsors earlier in the development phase HiRO seeks to streamline the start-up process of every clinical trial. With HiRO we believe that early planning and clinical trial strategy result in successful trials. When properly planned many start-up activities can be run in parallel, resulting in accelerated start-up timeframes. Locally based ethics and regulatory specialists and dedicated local start-up teams ensure that timelines are condensed. The HiRO team are global experts with local knowledge and local experience.
Our one global team approach means that we are experienced in working collaboratively across geographic locations seamlessly. Proven integrated processes, supported by leading technology, supports the HiRO team to support the needs of each clinical trial.