10 Jul
Accelerating FDA Approvals – It's Faster Outside the US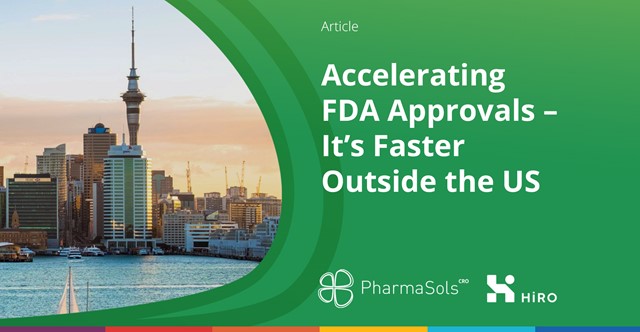 Although it may seem counterintuitive, obtaining FDA approval is often expedited when the clinical trials are conducted outside the US.
This process acceleration isn't about bypassing thorough checks or compromising on quality. Instead, it leverages the benefits of certain regions' clinical research ecosystems, like those of Australia and New Zealand (ANZ).
Australia and New Zealand have become the preferred destinations for conducting clinical trials among an increasing number of global sponsors. That is not unexpected, given that the region produces high-quality clinical data while being time- and cost-effective.
The ANZ region's streamlined regulatory processes enable accelerated study start-up timelines while producing high-quality data that meets the FDA and EMA standards.
Streamlined processes
The ANZ region has one of the world's most streamlined ethics and regulatory environments. ANZ regulatory frameworks do not require the need for an Investigational New Drug (IND) application. In the US, this application process can often take up to a year, drawing significant time and financial resources from the sponsors. Additionally, in Australia and New Zealand Good Manufacturing Practice (GMP) material is not mandated for Phase 1 clinical trials, further simplifying application processes, and allowing trials to proceed more swiftly while producing high quality clinical data.
By leveraging these streamlined ethics and regulatory processes, sponsors can achieve rapid study start-up timelines to start clinical trials in as little as 35 days. The quicker start-up also allows sponsors to capture real-world data faster, supporting their later phase trials worldwide.
The high-quality data generated from clinical trials conducted in Australia and New Zealand can be widely accepted by all major international regulatory bodies, such as the FDA and the EMA, as part of regulatory applications.
The ANZ region's streamlined ethics & regulatory processes save time and maintain a robust ethical framework for trials, ensuring patient safety and data integrity.
High quality clinical data through proven patient recruitment
Recruitment and retention of trial participants can often be a critical bottleneck in clinical research.
Patient recruitment holds great significance in the successful completion of a clinical trial. It is imperative to recruit the targeted patient population to obtain high-quality clinical data that meets the standards of international regulatory bodies such as the FDA and EMA. Failure to meet recruitment targets or failure to gather a diverse population required can compromise the quality of clinical data, leading to potential rejection of the data by the FDA or EMA.
The ANZ region has been known for its diverse population and proven patient recruitment and retention rates.
According to statistics from the Australian and New Zealand Clinical Trials Registry (ANZCTR), between 2021 and 2023, ANZ managed to exceed patient recruitment expectations while achieving a participant retention rate of 104%.3
These rates are a result of the region's targeted efforts in generating interest around clinical research. The governments of Australia and New Zealand have taken proactive initiatives to enhance awareness and interest in clinical trials among their populations. From public awareness campaigns to direct patient engagement, these initiatives have been instrumental in fostering a favourable environment for clinical trials.
As for Phase II and III trials, ANZ has an excellent track record. Unlike regions such as the UK, US, and parts of Europe, which often fail to meet their recruitment goals by a sizeable margin. It is estimated that around 86% of all clinical trials in the US1 and 69% of trials in the UK fail to achieve recruitment targes on time.2 ANZ rarely falls short of recruitment targets. This reliability contributes to the collection of high quality clinical data in Australia and New Zealand, which is accepted by all major international regulatory bodies.
Keeping trials moving forward
Global sponsors are choosing Australia and New Zealand as their preferred destinations for early phase clinical trials. This strategic decision allows sponsors to generate high-quality clinical data in a time- and cost-effective manner. The obtained quality data plays a crucial role in supporting various regulatory applications, including pre-IND submissions, and facilitates the smooth progression to later-phase clinical trials worldwide.
By conducting early phase clinical trials in ANZ, biotechs can streamline their product's clinical development while concurrently finalizing regulatory applications with the FDA and EMA. ANZ's rapid approval process provides a unique opportunity to support parallel applications to the FDA by utilizing data collected form a previously approved ANZ trial.
PharmaSols – Quality Without Compromise
At PharmaSols, we're champions of high-quality clinical research. We firmly believe in 'Quality Without Compromise'.
We want to ensure we are always ready to support our clients in collecting quality data from their clinical trials, and this starts by upholding quality within our firm.
PharmaSols is internationally IAOCR accredited and has an internal EMS audit. We have successfully set up quality systems in compliance with both local and international regulatory standards. PharmaSols also has dedicated and highly experienced QA managers who ensure that the quality within the firm is upheld. From external audits between 2017- June 2023, PharmaSols have had 0 critical findings, speaking to the value we place on quality.
Using our specialist knowledge and relationships in the ANZ region, we help global sponsors to effectively navigate through the regulatory environments and successfully complete their clinical trials, all while ensuring high quality data.
PharmaSols' dedicated in-house start-up team and regulatory experts employ highly efficient processes to capitalise on Australia and New Zealand's ethics and regulatory timeframes, helping sponsors achieve rapid study start-up.
Our industry relationships and established site networks help us deliver, and even overachieve, our patient recruitment and retention targets – enabling the generation of quality data. A recent example of PharmaSols' ability to recruit effectively – we achieved final recruitment of 204% of the initial target in only 26 days!
PharmaSols
PharmaSols is uniquely positioned in Australia and New Zealand, one of the world's most trusted and rapidly growing clinical trial regions. With over 20 years of experience in this region and a team of dedicated experts, we support global biotechs to collect high-quality clinical data from this region.
In addition to this, PharmaSols takes a creative problem-solving approach, has a trusted network of experts, and maintains a people-driven approach, so you can be confident that your trial will remain on track and meet its targets.
Our experience is your advantage in Australia and New Zealand.
References:
1.Sage Journal May2021 https://journals.sagepub.com/doi/10.1177/17407745211015924#bibr6-17407745211015924; Huang G, Bull J, Johnston McKee K, et al. Clinical trials recruitment planning: a proposed framework from the Clinical Trials Transformation Initiative. Contemp Clin Trials 2018; 66: 74–79.
2. Sage Journal May2021 https://journals.sagepub.com/doi/10.1177/17407745211015924#bibr6-17407745211015924; Fogel D. Factors associated with clinical trials that fail and opportunities for improving the likelihood of success: a review. Contemp Clin Trials Commun 2018; 11: 156–164.
3. ANZCTR data taken 10th Jul2023, AU NZ, completed trials 2021-2023,169 trials, actual, sample size not blank.