14 Jun
How Biotechs can utilise Australia and New Zealand to extend seasonal clinical trials and rescue studies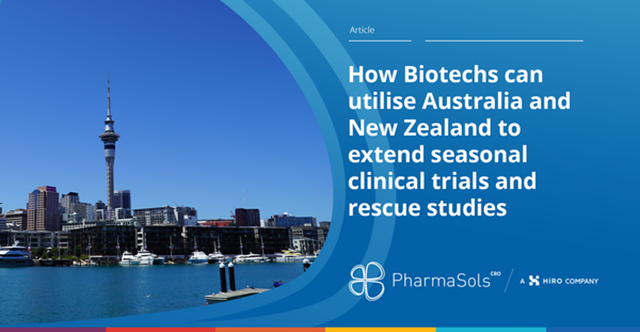 Randomised, controlled trials are considered the gold standard in assessing the safety and effectiveness of potential new medicines and therapies.
These trials are extremely complex and are often delayed due to factors such as regulatory approvals and patient recruitment and retention. An added complication is that some trials need to be undertaken in a particular season to be able to recruit the target population and are therefore racing to meet nature's own timeline.
Clinical trials that are interrupted, altered, postponed, or even cancelled have huge financial implications for the sponsor, and the human cost is even more significant. Delayed or failed trials mean patients will wait longer for new, potentially life-saving treatments.
Seasonal trials all year 
There are many complexities associated with running a clinical trial where a seasonal indication is the target or could impact the trial itself. 
Respiratory illnesses, influenza, and allergies are all related to seasonal conditions and are best studied in the corresponding season. This puts pressure on the timeframes for regulatory approvals and patient recruitment. 
Some studies find it challenging to recruit enough participants throughout a long-term study, let alone during the shortened timeframe of a seasonal trial. The complexities surrounding patient recruitment quickly raises the risk that the ideal season will end before the trial can get underway.
Fortunately, recruitment and retention struggles need not prove fatal for seasonal studies. The southern hemisphere provides a haven for these studies, allowing them to continue running, and even resolving their recruitment issues.
Because the northern and southern hemispheres experience opposite seasons, northern hemisphere sponsors can run trials in Australia and New Zealand that would otherwise be 'out of season'.
Sponsors also have the option of extending their seasonal trials by moving them to Australia and New Zealand at the end of the northern hemisphere winter. Effectively, these trials can run all year round.
Rescue studies
All trials run into issues, often resulting in significant delays and serious financial and human impacts. Trial timelines are typically interrupted by lengthy ethics and regulatory timelines as well as problems with patient recruitment and retention.
Australia and New Zealand provide solutions to these issues with streamlined ethics and regulatory timelines, the population's high willingness to participate in clinical trials, and high-quality research capabilities. The region has other advantages too, including:
A large and diverse population
Competitive clinical trial costs
Similar medical practices to the US and the EU
Seasons opposite to northern hemisphere
Western lifestyle diseases
Compared to the northern hemisphere, Australian and New Zealand populations are more willing to take part in clinical trials. This openness reflects the governments' supportive attitude towards clinical research and their encouragement of clinical trials.
The willingness of our local populations to participate in clinical trials is offering a lifeline for CROs having issues with patient recruitment to prevent delays in completing their studies, or even to "rescue" these trials.
In one instance, PharmaSols recruited twice as many patients as our global CRO partner for a US Biotech company. Not only was the recruitment squeezed into a three-month seasonal window, but it also met with issues so unique that there were no established protocols.
Pandemic impact on clinical trials 
The pandemic resulted in trials being halted all around the world. In Australia and New Zealand, a combination of low transmission rates, a highly vaccinated population, and the classification of clinical trials as an essential service allowed clinical trials to continue uninterrupted by the pandemic. 
In most other countries, the pandemic negatively impacted patient recruitment numbers. The average recruitment for Phase I clinical trials fell 40% in the UK, 31% in the EU, and 10% in the US. In contrast, the ANZ region observed a 15% increase in enrolment levels compared to 2018. 
Similarly, for Phase II and III clinical trials, trials being conducted in the ANZ region are least likely to fall short of their recruitment targets. However, the UK, US, and other countries in Europe have fallen short of their recruitment targets by a massive 50%.
It is widely accepted that almost half of all delays in clinical trials are a result of problems with patient recruitment. It makes sense to select sites with the capabilities to recruit large numbers of patients within short time frames.
PharmaSols
PharmaSols' unique location allows us to leverage the benefits of opposing seasons, world-class research networks, a willing participant population, and high COVID-19 vaccination rates amongst the populations.
With over 20 years of experience in this region, we have established a trusted network of experts and a creative approach to problem-solving. Get in touch with PharmaSols to discuss options for running or rescuing your seasonal trials.