14 Jun
Accelerating Clinical Trials: Australia and New Zealand's Streamlined Processes Attract Biotechs Worldwide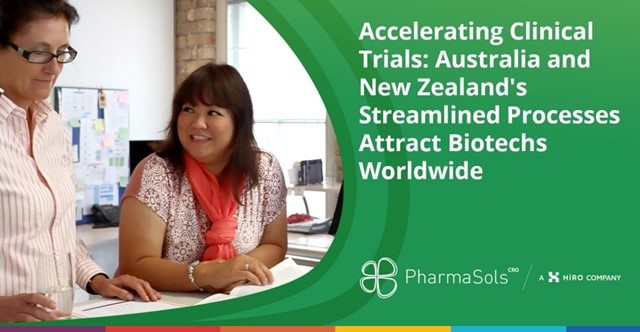 We've always heard about the saying, time is money. You might wonder how this applies to clinical trials.
Ethics and regulatory processes are perceived as a hurdle by many biotechs and are known to be a key limiting factor in the study start-up phase of a clinical trial.
Australia and New Zealand offer a simplified route for organisations to move quickly through the study start-up phase. The key enablers are the region's streamlined ethics and regulatory frameworks.  
Australia and New Zealand have some of the fastest and streamlined regulatory environments in the world. So, its no surprise that more and more biotechs are conducting clinical trials in this region.
In addition to the streamlined ethics and regulatory processes, costs associated with these submissions are relatively low compared with many other regions, such as the US and Europe. The ANZ region does not require an IND application to conduct clinical trials, saving up to a year in a regulatory timelines and considerable costs for the sponsor. Furthermore, full GMP material is not mandated for Phase 1 clinical trials in Australia and New Zealand.
These streamlined processes might raise the question of whether the quality of data is compromised to achieve speed. We can confirm that high quality data is generated by clinical trials in Australia and New Zealand which is accepted by all major regulatory bodies in the world – such as the FDA and EMA. Sponsors can use the clinical data generated in this region to support their later phase trials worldwide.
A regulatory environment that enables start-ups quicker than anywhere else in the world. 
Global sponsors are looking at Australia and New Zealand in an effort to save time and money when running clinical trials.
PhRMA recently put the average cost of a successful drug trial at around $2.6 billion. The cost per day can fall anywhere between $600,000 and $8 million.
Compared to the US, up to a year can be shaved off the regulatory timeline in ANZ, as there is no requirement for an IND application to conduct clinical trials. Furthermore, full GMP material is not mandated for Phase I clinical trials in Australia and New Zealand. 
In the Sydney Herald (3 May 2022), Cancer-fighting organisation BeiGene's Commercial VP and Head of APAC, Adam Roach, said, "On average in Australia, the first patient into a clinical trial (after approvals) is about three months, whereas, in the US or EU, it's six to nine months"1. 
Using a local CRO to your advantage
By leveraging the region's streamlined processes, sponsors running clinical trials in ANZ will get the first patient enrolled faster than they would have anywhere else in the world. 
When coming to the ANZ region, companies are turning to local CROs to help them navigate the ethics and regulatory frameworks. While regions like Australia and New Zealand present with some of the fastest Ethics and Regulatory approval environments globally, both come with unique regional and cultural requirements that play vital roles in the application process.
Local CROs have intricate knowledge of their country's ethics and regulatory requirements. They have strong relations with both ethics and regulatory body representatives – assisting better communication. Local CROs can usually be notified about the availability for the ethics meetings, which can enable them to align the application hand-in accordingly to prevent a 2–4-week delay in the entire process.
In addition to this, local CROs will also have more established and trusted relationships with sites and local experts to gain insight regarding issues that may arise. These relationships within the industry assist with topics such as the specific standard of care available in the region for the indication of interest to align the study design accordingly, and the specific certification requirements (e.g., GMP certification) for the sponsors to run the clinical trial in the region.
 How PharmaSols can support your trials
 The key to PharmaSols' success is our dedicated in-house start-up team and regulatory expert. This team employs highly efficient processes to capitalise on the ANZ region's ethics and regulatory timeframes, providing sponsors with rapid and cost-effective solutions.
Now that we have discussed what the ANZ region has to offer along with why using a local CRO is the way to go here are some recent examples demonstrating how PharmaSols can support your trials.
Understanding New Zealand's centralised ethics and regulatory bodies' processes and timelines, PharmaSols swiftly obtained the necessary Ethics and Regulatory approvals prior to the first site initiation visit (SIV) – resulting in 35-day study start-up.
Similarly, for a complex Phase 1b oncology study, rapid regulatory timelines were achieved in both Australia and New Zealand. In both countries, PharmaSols made regulatory submissions in 1 day. Full regulatory approval was granted in only 8 days in Australia and 13 days in New Zealand.
With the support of this framework, PharmaSols submitted the necessary ethics application in one day and secured ethics approval in just 14 days. We obtained regulatory approval within just 3 days of receiving the final protocol for a COVID-19 vaccine trial.
PharmaSols
PharmaSols is uniquely positioned in Australia and New Zealand, one of the world's most trusted and rapidly growing clinical trial regions. With over 20 years of experience in this region and a team of dedicated start up specialists, we ensure the success of any trial's Ethics and Regulatory application. On top of that, we can successfully achieve rapid start-up in 35 days.
In addition to this, PharmaSols takes a creative problem-solving approach, has a trusted network of experts, and maintains a people-driven attitude, so you can be confident that your trial will remain on track and meet its targets. 
For more in-depth information about the ethics and regulatory frameworks in the ANZ region, please see this white paper.