18 May
The Effect of the Pandemic on locations for conducting clinical trials for Biotechs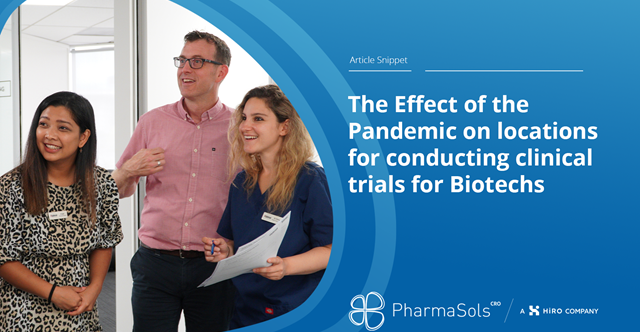 Through the spring of 2020, it became evident that the Covid-19 pandemic would have a dual impact on the clinical research sector. While it has provided the opportunity to conduct research for vaccines, treatments, and diagnostic tests for COVID-19; it has also acted as a major disruptive force, halting trials in their tracks, and exacerbating existing fragilities within the sector. 
Australia and New Zealand bucked this trend, with several factors playing into the region's growing reputation as an ideal location for clinical trials, for COVID-19 vaccines, related treatments, and diagnostics.
In 2020 when COVID-19 first hit, the UK initiated 55% fewer commercial clinical trials (compared to pre-pandemic levels). US had a 40% reduction and ANZ had a 30% reduction. It's worth noting that in Australia and New Zealand, this initial drop was subsequently reversed, thanks in part to the region's effective COVID response and permissive regulatory environment.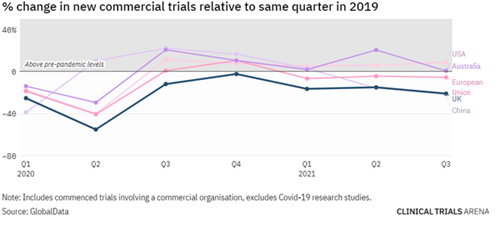 Image source: UK clinical trials: the data behind a slow post-pandemic recovery (clinicaltrialsarena.com)
Not only did the pandemic decrease the percentage of commenced trials globally, to a greater degree it also negatively impacted the patient recruitment numbers in most countries. The average recruitment for Phase I clinical trials has fallen significantly in the UK (40%), EU (31%), and US (10%). Australia and New Zealand were the exceptions.
The ANZ region had no issues with patient recruitment for clinical trials; on the contrary, the region observed a 15% increase in the enrolment levels compared to 2018. Similarly, for Phase II and III clinical trials, trials being conducted in the ANZ region are least likely to fall short of their recruitment targets. This is different to the UK, US, and other countries in Europe which are more likely not to reach their recruitment targets – falling short by a massive 50%!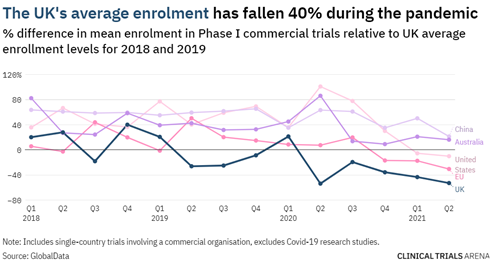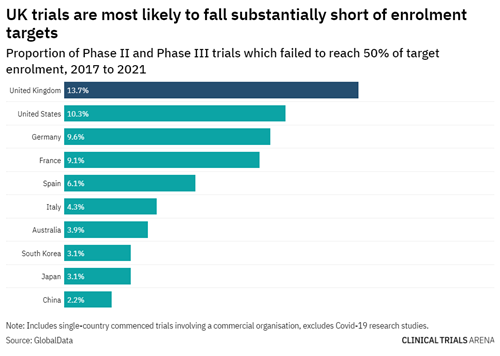 Image source: UK clinical trials: the data behind a slow post-pandemic recovery (clinicaltrialsarena.com)
Why AUNZ have the regional advantage? 
As Covid-19 spread around the world, New Zealanders and Australians developed the world's highest levels of trust in scientists, according to the Wellcome Global Monitor. This trust may help explain why the populations of both countries are highly vaccinated and more willing to participate in clinical trials, compared with the rest of the world. 
A greater level of vaccine protection combined with a low death rate from COVID may contribute to people in Australia and New Zealand feeling safe and confident to enroll in clinical trials. This is borne out by the fact that recruitment numbers have not fallen here as they have elsewhere.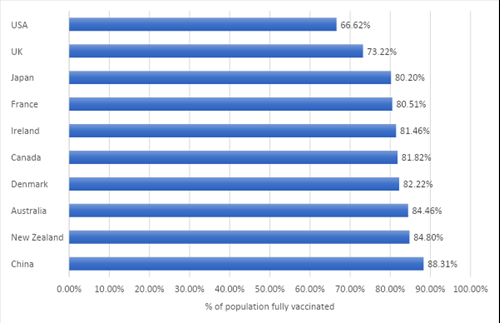 Data source: Understanding Vaccination Progress by Country - Johns Hopkins Coronavirus Resource Center (jhu.edu). Image created by PharmaSols
A highly vaccinated population also makes this region well suited for COVID-19 booster clinical trials with the population of interest. The ANZ population is also highly willing to participate in clinical trials for anti-viral treatments and diagnostic tests for COVID-19.
Many regions of the world have experienced challenges responding to the demands of high COVID-19 infection rates and consequently, many clinical trials have seen significant delays. 
Australia and New Zealand have continuously demonstrated their ability to provide continuity for clinical trials throughout this pandemic. The governments of both countries have classified clinical research as an essential service and allowed clinical trials to continue despite lockdowns and other COVID-19 mandates. 
In addition to this, the region also has expedited ethics and regulatory processes in place to obtain fast approval for COVID-19 related clinical trials to support the development of the much-needed therapies and tests. 
Additionally, Australia and New Zealand have world-class research infrastructure and a high uptake of technology. Research sites and CROs facilitate remote monitoring and telehealth capabilities, allowing critical patient recruitment and site monitoring to continue during the pandemic.
While issues with continuity of clinical trials and patient recruitment were observed globally because of the pandemic, the following examples show the ANZ region and PharmaSols' capabilities to successfully support clinical trials in these times.
PharmaSols case studies – COVID-19 Vaccine and Diagnostic trials
ANZ have implemented expediated ethics and regulatory timelines for COVID-19 related studies, supporting their necessary rapid study start-up.
Start-up timelines – With the support of these expedited timelines, PharmaSols achieved ethics approval in 14 days and regulatory approval in 3 days from receiving the protocol for the COVID-19 vaccine trial. PharmaSols were able to achieve rapid start-up in only 19 days for this vaccine trial. 
For a COVID-19 diagnostic trial, full ethics and regulatory approval in NZ was achieved in only 21 days from receiving the protocol.
Recruitment success – in the first four days of the recruitment process for a COVID-19 vaccine trial, 104% of the recruitment target was pre-screened and booked. We achieved final recruitment of 204% of the initial target, in only 26 days. 
For a COVID-19 diagnostic trial, PharmaSols recruited 101% of the original patient target in just over a week. 
For recruitment successes in both these examples, PharmaSols engaged with the private site network in New Zealand as they have proven delivery and greater capacity than hospitals in the COVID times.
With over 20 years of experience in Australia and New Zealand, we have established a trusted network of experts in this region and can now offer even more flexibility in providing solutions for sponsors. Get in touch with us to see how we can help support your trial, from beginning to end.