18 Nov
The ANZ Advantage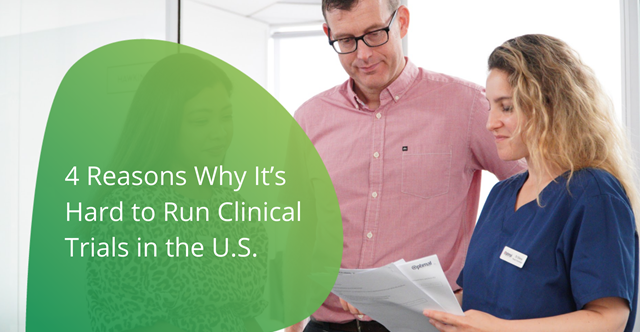 4 Reasons Why It's Hard to Run Clinical Trials in the U.S.
Recent pressures put on clinical trials has meant that nearly everyone in the industry has had to re-evaluate processes and traditional business models, including where to conduct global clinical trials.
The U.S. region has traditionally been considered a "safe", well understood region for US bio-techs, pharma and medical device research companies to conduct their clinical trials.  Recently many global sponsors are looking to the Australia and New Zealand region, with this area offering multiple advantages over the U.S.; such as significantly lower costs, faster study start-up timelines, and the benefits associated with the regions COVID-19 response.
COVID-19 Response
Sponsors, CROs, and other organisations aimed at supporting clinical trial research have reported disruptions to planned and ongoing studies in the U.S. [1].  While it has been reported that the number of trials on hold is slowly reducing, the future impacts of these derailments remain worryingly unknown.
Whilst in 2020-2021 trials in the U.S. attempt to work through the derailments and prevent future delays, clinical trials in Australia and New Zealand continue to run without facing such challenges.
Sites have developed approaches to clinical trial activities during this time, including the implementation of remote monitoring. This has allowed sites to safely keep CRO's up-to-date with each study, just as they would with onsite monitoring. As these remote monitoring capabilities were introduced early into the pandemic, most sites in the Australian and New Zealand region are fully equipped and now well experienced in managing these capabilities. While in the U.S. sites are still trying to grasp these new processes successfully.
Early into the pandemic, trials in this region were classed as an essential service and were allowed to continue without the threat of costly disruptions.
Vaccine trials rapid participant recruitment
Issues with patient recruitment have long plagued clinical trials. However, when lockdown restrictions and increased participation hesitancy are thrown into the mix, this issue grew to a difficult challenge.
Despite both Australia and New Zealand seeing spikes of Delta variant cases, health systems are coping well. Along with relatively low transmission rates, confidence in the region's ability to manage the virus has not made recruitment processes any more challenging.
Most recently, a European biotech is conducting a COVID-19 vaccine study in New Zealand. With the support of PharmaSols, this trial saw immense success within just the first four days of the recruitment process, with the initial target of 150 participants exceeded and 104% of the recruitment target pre-screened and booked.
We achieved a final recruitment of 306 patients, 204% above the initial target in only 26 days.
Speed
The European biotech chose New Zealand due to the region's reputation for successful patient recruitment abilities, its management of the pandemic, and its unique Ethics and Regulatory timelines.
For many companies, a key milestone is getting the study started. Especially in these times, rapid start-up is essential.
In Australia and New Zealand, a US Pre-Investigational New Drug (IND) submission is not necessary to conduct a clinical trial in this region. This is a significant time saving compared to the U.S. and we are seeing global sponsors commencing phase 1 trials in this region and using this data as part of their US IND application.
In addition to expediated ethics and the regulatory processes for COVID-19 related clinical trials, both New Zealand and Australia have one of the fastest ethics and regulatory timelines in the world. PharmaSols has achieved rapid study start up of 35 days from receiving final protocol to SIV and most recently for a COVID-19 trial E&R approvals have been received in just 14 days.
Cost  
The delays caused by either pandemic restrictions or poor patient recruitment can have massive, costly impacts on trials. In the U.S., the cost of a clinical trial per day can fall anywhere between $600,000 to $8 million [3].
Running a trial in Australia and New Zealand can be up to 60% cheaper than in the U.S. [4].
The Australian Government offers an R&D rebate of 43.5% of clinical costs, significantly reducing costs involved.  It comes back as part of a cash rebate to eligible sponsors and for R&D costs that fit the criteria to be able to claim the rebate.
From the start of the pandemic, PharmaSols recognized the need to quickly implement new processes and remote monitoring capabilities to ensure the continuity of clinical trials. Our team adapted these processes almost immediately. As a result, along with being supported by our regions management of the virus, we have been able to successfully run trials with little to no interruptions.
This success has been further demonstrated in our achievements with the European biotech's COVID-19 vaccine trial, an experience that we aim to carry forward into future trials.
Being uniquely positioned gives us the capacity to offer trials world-renowned research hubs, start-up speeds and vital cost-saving abilities.
With over 20 years of experience in this region, we have established a trusted network of experts and a creative approach to problem-solving.
Get in touch with us to see how we can help support your trial.
Sources:
[1] Disrupted clinical trials due to slow recruitment continue to rise https://www.clinicaltrialsarena.com/comment/disrupted-clinical-trials-slow-recruitment/
[2] https://www.health.govt.nz/our-work/diseases-and-conditions/covid-19-novel-coronavirus/covid-19-response-planning/covid-19-mandatory-vaccinations/covid-19-exemptions-and-exceptions-mandatory-vaccination,
[3] Accelerating Study Start-Up: The Key to Avoiding Trial Delays (Online) Available at: https://acrpnet.org/2017/02/01/accelerating-study-start-up-the-key-to-avoiding-trial-delays/
[4] Medicines Australia (2014) Clinical Trial Metrics: benchmarking Australia's performance