09 Oct
Assured Continuity of Clinical Trials in Australia and New Zealand during the Covid-19 pandemic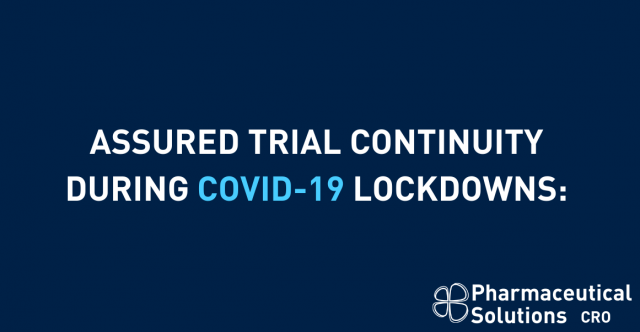 To date, Australia and New Zealand have been fortunate with comparatively low rates of transmission than in many other parts of the world. Confidence in the Australian and New Zealand clinical environment has been shown globally with 170 new study start-ups registered on the ANZCTR between April and August 2019. The regions ability to assure trial continuity through one of our toughest challenges, COVID19, is being recognized by global bio-techs and pharmaceutical companies.
During all levels of lockdowns across the region, Pharmaceutical Solutions has proven strategies in place to ensure both the streamlined start-up of new studies and existing study continuity. We are confident in our local sites' proven virtual and remote capabilities.
Clinical trials are classed as an essential service in both Australia and New Zealand
Sites in Australia and New Zealand have telemedicine, virtual, and remote capabilities
Hospitals and healthcare systems continue to operate at all alert levels
Pharmaceutical Solutions staff are all able to work from home
Pharmaceutical Solutions have proven remote monitoring standard operating procedures to ensure study continuity and compliance
Essential site visits are conducted considering site, patient, and staff safety
Clinical trials are complex, and with the added challenges of Covid-19, it is now more important than ever to work with a team of local experts. An award-winning CRO, Pharmaceutical Solutions has worked in Australia and New Zealand for over twenty years and we proudly bring this experience to every one of our studies. 
About Pharmaceutical Solutions:
Pharmaceutical Solutions (PSL) is considered one of the leading Contract Research Organisations (CRO) in the Australian & New Zealand region. PSL provides full-service clinical research and regulatory management for global and local clients; from study start-up, through to trial completion, for all phases of clinical trials.
Pharmaceutical Solutions strives to continuously deliver clinical trials to the highest standards. Our network of partners has proven that accelerated ethics and regulatory frameworks can deliver start-up in 35 days in the Australian & New Zealand region, as well as consistently delivering rapid recruitment and quality clinical trial results. These results rely on our ability to leverage our networks performance. To work collectively.
"Australia and New Zealand is a bit unique like that. We all just get on with it, even when things get tough." -- Jacquie Palmer, Managing Director of Pharmaceutical Solutions.
Regional benefits of conducting clinical trials in Australia and New Zealand include:
·       Cost effective R&D incentives, attracting global clinical trials
It can be between 39 and 60% less expensive than the U.S to conduct a commercial clinical trial in this region. The Australian Government offers a significant tax incentive to global trial sponsors, which can return up 43.5 percent for every dollar spent on R&D, with eligible R&D also including non-Australian clinical trial costs.
·       Accelerated ethics and regulatory frameworks
An effective and efficient process with low cost submissions and timely approvals, start-up can be achieved in 35 days
·       High quality research staff and facilities, Phase 1-4, therapeutic experts
Long track-record in FDA & EMEA compliant research
Compliance with international standards of conduct and GCP standards
No pre-IND required
Full GMP material is not fully mandated for Phase I clinical research trials
Proven delivery of patient recruitment targets
·       Proven Remote and Virtual trial capabilities, ensuring seamless study start up and trial continuity
·       Ethnically diverse patient pool
·       Seasonal differences
Northern and Southern hemisphere seasons are reversed which allows for the extension of seasonal treatment trials during "off-season". Applicable to flu vaccine, allergy or respiratory trials.