20 Oct
"I wanted to be part of the solution to Covid-19": Michele Ashby, Executive Director, US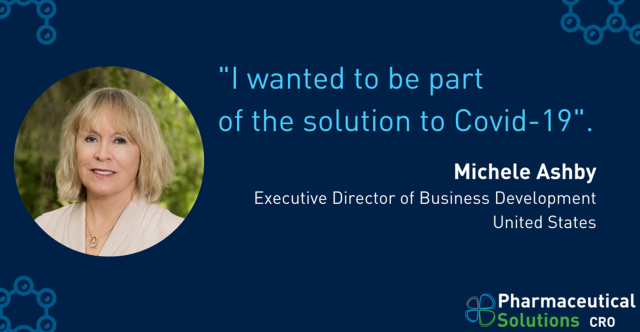 We're incredibly proud of our Executive Director of Business Development in the United States, Michele Ashby, who is taking part in a US based COVID-19 vaccine trial. Hear from Michele, her insights as a clinical trial participant in this vital clinical trial.
"The reason I signed up for this trial is simple; I want to be a part of the solution in the fight against Covid-19.
I've been working in the clinical research industry for over twenty years, so I was curious about being on the participant side of a trial. I know how dedicated the site, data, and trial management teams work to ensure that the patient's safety and support are an utmost priority, so I felt secure in my decision to participate.
Clinical trials are about creating the best health outcomes for society, and Covid-19 undoubtedly represents a significant challenge to public health across the globe.  Therefore, being part of a vaccine trial is a way to meaningfully contribute to this collective effort.
Like all other trial participants, I'll be involved in this trial for 15 months and during that time, I'll be traveling to the trial site seven times to receive a total of three injections and additional visits for checking my health status and any long term side effects.  All participants are split into five treatment groups; some patients will receive the vaccine, some a placebo, and the others a varying combination of both.  As this is a blinded trial, no one, including patients, site staff, or the vaccine company will know who received the placebo or the vaccine until after the trial completes.
My Pharmaceutical Solutions colleagues have been tremendously supportive of my participation in this vaccine trial.  As clinical trial professionals themselves, the team knows how crucial patient recruitment is for the safe development of new therapies. Now and in the future, I hope that more people will sign up for clinical trials to support our collective journey towards the development of new medicines and therapies."
"Michele, we are so proud of you." -  Pharmaceutical Solutions team