30 Sep
PharmaSols Partnering with Molecular Templates, Inc.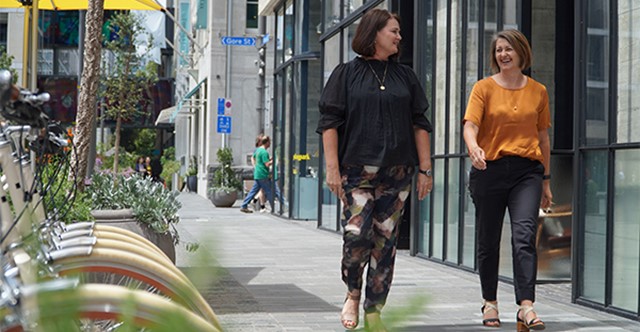 PharmaSols is delighted to be partnering with Molecular Templates, Inc. (MTEM) on their phase 1b study of MT-5111 in advanced human epidermal growth factor receptor 2 (HER2)-expressing solid tumours across multiple sites in Australia and New Zealand.

"We look forward to forging a strong, ongoing relationship with MTEM as we support their study in Australia and New Zealand. MTEM can leverage the benefits of world-class clinical research capabilities and health infrastructure in this region," says Jacquie Palmer, Managing Director of Pharmaceutical Solutions.
About the Study
This global Phase 1b Open-label, multicentre, dose-escalation and expansion study will evaluate the safety and tolerability and determine the maximum tolerated dose (MTD) or recommended Phase 2 dose (RP2D) of MT-5111 in subjects with previously treated advanced human epidermal growth factor receptor 2 (HER2)-expressing solid tumours. This study also aims to characterise the pharmacokinetic (PK) and pharmacodynamic (PD) profiles of MT-5111 in these subjects.

MTEM is developing novel therapies in oncology and other serious diseases through its proprietary biologic engineered toxin body (ETB) drug platform. ETBs are targeted, can induce their own internalization, and can destroy cells through novel mechanisms of action. ETBs utilize an antibody domain fused to a genetically engineered version of the Shiga-like Toxin A subunit (SLTA), a ribosome inactivating bacterial protein that can induce its own entry into a cell when proximal to the cell surface membrane, self-route to the cytosol, and enzymatically and irreversibly shut down protein synthesis via ribosome destruction resulting in cell death.
MT-5111 is a second-generation ETB consisting of a single-chain variable fragment (scFv) with an affinity for HER2, fused to the enzymatically active de-immunized Shiga-like toxin-A subunit (SLTA). MT-5111 specifically binds and kills HER2 expressing cells in a manner consistent with SLTA mediated cellular cytotoxicity.
MT-5111 is designed to avoid competition with and to overcome the primary mechanisms of tumor resistance to current HER2 targeted therapies. MT-5111 may provide benefits to patients with HER2-positive cancers by potentially overcoming mechanisms of tumor resistance to existing HER2 targeted therapies.
About Molecular Templates
Molecular Templates, Inc. (Nasdaq: MTEM, "Molecular Templates" or "MTEM"), is a clinical-stage biopharmaceutical company focused on the discovery and development of targeted biologic therapeutics. Our proprietary drug platform technology, known as engineered toxin bodies, or ETBs, leverages the resident biology of a genetically engineered form of Shiga-like Toxin A subunit to create novel therapies with potent and differentiated mechanisms of action for cancer and other serious diseases.
For more information, please visit www.mtem.com
Forward-Looking Statements
This press release contains forward-looking statements for purposes of the U.S. Private Securities Litigation Reform Act of 1995 (the "Act"). Molecular Templates disclaims any intent or obligation to update these forward-looking statements and claims the protection of the Act's Safe Harbor for forward-looking statements. All statements, other than statements of historical facts, included in this press release regarding strategy, future operations, future financial position, future revenue, projected expenses, prospects, plans and objectives of management are forward-looking statements. In addition, when or if used in this press release, the words "may," "could," "should," "anticipate," "believe," "estimate," "expect," "intend," "plan," "predict" and similar expressions and their variants, as they relate to Molecular Templates may identify forward-looking statements. Examples of such statements include, but are not limited to, statements regarding the safety or potential efficacy of Molecular Templates' drug or biologic candidates, including the anticipated benefits of Molecular Templates' next-generation ETBs; statements relating to the development of MT-5111; the expected timing of submitting various IND applications, initiating and completing enrollment of cohorts and conducting studies; the anticipated effects of the COVID-19 pandemic on Molecular Templates' ongoing clinical studies, manufacturing and preclinical development; and Molecular Templates' belief that its proprietary biologic drug platform technology, or ETBs, provides for a differentiated mechanism of action that may address some of the limitations associated with currently available cancer therapeutics.
Forward-looking statements are not guarantees of future performance and involve risks and uncertainties. Actual events or results may differ materially from those discussed in the forward-looking statements as a result of various factors including, but not limited to the risks associated with the uncertainties inherent in the preclinical and clinical development process; whether Molecular Templates' cash resources will be sufficient to fund its continuing operations for the periods and/or trials anticipated; the ability of Molecular Templates' to protect its intellectual property rights; risks from global pandemics including COVID-19; and legislative, regulatory, political and economic developments, as well as those risks identified under the heading "Risk Factors" in Molecular Templates' filings with the U.S. Securities and Exchange Commission. There can be no assurance that any of Molecular Templates' drug or biologic candidates will be successfully developed, manufactured or commercialized, that final results of clinical trials will be supportive of regulatory approvals required to market products, or that any of the forward-looking information provided herein will be proven accurate. Any forward-looking statements contained in this press release speak only as of the date hereof, and Molecular Templates specifically disclaims any obligation to update any forward-looking statement, whether because of new information, future events or otherwise.
About PharmaSols:
PharmaSols has over 20 years of experience and is considered one of the leading Contract Research Organisations (CRO) in the Australian & New Zealand region. PharmaSols provides full-service clinical research and regulatory management for global and local clients; from study start-up, through to trial completion, for all phases of clinical trials.

PharmaSols strives to continuously deliver clinical trials to the highest standards. Our network of partners has proven that accelerated ethics and regulatory frameworks can deliver start-up in 35 days in the Australian & New Zealand region, as well as consistently delivering rapid recruitment and quality clinical trial results. These results rely on our ability to leverage our networks performance; to work collectively.
"Australia and New Zealand is a bit unique like that. We all just get on with it, even when things get tough." -- Jacquie Palmer, Managing Director of PharmaSols.
Regional benefits of conducting clinical trials in Australia and New Zealand include:
Cost-effective R&D incentives, attracting global clinical trials
It can be between 39 and 60% less expensive than the U.S to conduct a commercial clinical trial in this region. The Australian Government offers a significant tax incentive to global trial sponsors, which can return up 43.5 percent for every dollar spent on R&D, with eligible R&D also including non-Australian clinical trial costs.
Accelerated ethics and regulatory frameworks
An effective and efficient process with low cost submissions and timely approvals, start-up can be achieved in 35 days.
High-quality research staff and facilities, Phase 1-4, therapeutic experts
Long track-record in FDA & EMEA compliant research
Compliance with international standards of conduct and GCP standards
No pre-IND required
Full GMP material is not always mandated for Phase I clinical research trials
Proven delivery of patient recruitment targets
Proven Remote and Virtual trial capabilities, ensuring seamless study start up and trial continuity
Ethnically diverse patient pool
Seasonal differences
Northern and Southern hemisphere seasons are reversed which allows for the extension of seasonal treatment trials during "off-season". Applicable to flu vaccine, allergy or respiratory trials.