15 Sep
Australia and New Zealand – the haven for Patient Recruitment and Retention in Clinical Trials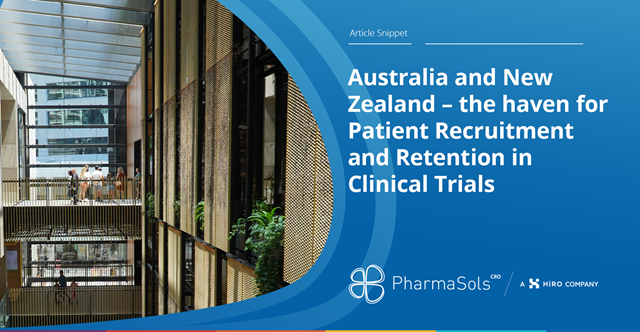 Patient recruitment and retention are critical for the success of any clinical trial. It is widely accepted that almost half of all delays in clinical trials are a result of problems with patient recruitment and retention. 
But why is patient recruitment important? For a trial to be successfully completed, recruiting the target patient population is necessary. Patient recruitment and retention play an essential role in generating high-quality clinical data which can be accepted by international regulatory bodies such as the FDA and the EMA. Not achieving the recruitment targets or the diverse population required also reduces the quality of clinical data collected from the study – which may not be accepted by the FDA and/or the EMA. 
Delayed patient recruitment or failure in this can result in trial timelines being unnecessarily extended, costing sponsors a significant amount of time and money. 
Australia and New Zealand act as a haven for recruitment and retention in clinical trials as they offer a highly willing and ethnically diverse patient population.
The ANZ region advantage 
The Australian and New Zealand populations are uniquely diverse, making the region the ideal choice for patient recruitment for many global sponsors. 
Compared to the northern hemisphere, Australian and New Zealand populations are more willing to take part in clinical trials. Trial statistics from ANZCTR show that between 2015 and 2020, patient recruitment exceeded expectations, resulting in 103% retention of patients. This has been a combination of efforts put in by the Australian and New Zealand Governments and a highly informed, willing, and ethnically diverse patient population spread across the region.
Another incentive for the New Zealand population to enrol into clinical trials is access to the world-class and most innovative treatments available in the world. New Zealand, across multiple therapeutic classes, such as oncology, is a late adopter of some global standard of care options. This acts as an incentive for key opinion leaders to recommend and patients to enrol on any clinical trials which may cater to their needs. 
The willingness of our local populations to participate in clinical trials is offering a lifeline for global sponsors who are having issues with patient recruitment. These sponsors look to Australia and New Zealand to "rescue" their clinical trials by adding sites here to meet their recruitment targets and prevent delays in completing their studies.
Clinical Trials Arena recently released global data on the patient recruitment targets for 2017 to 2021. During this period, the average recruitment for Phase I clinical trials has fallen significantly in the UK (40%), EU (31%), and US (10%). Australia and New Zealand were the exceptions. The ANZ region had no issues with patient recruitment for clinical trials; on the contrary, the region observed a 15% increase in enrolment levels compared to 2018. 
Similarly, for Phase II and III clinical trials, trials being conducted in the ANZ region are least likely to fall short of their recruitment targets. This is different to the UK, US, and other countries in Europe, which are more likely not to reach their recruitment targets – falling short by a massive 50%!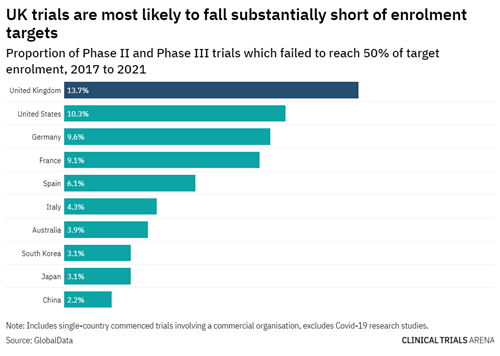 The Value of PharmaSols in Patient Recruitment and Retention.  
We have established the importance of patient recruitment and retention in clinical trials, as well as how the advantages provided by the ANZ region. But how can PharmaSols help global sponsors achieve their recruitment targets and generate quality clinical data from their studies?
Key to successful patient recruitment and retention is having solid relationships with the clinical trial sites. For over 20 years, PharmaSols has worked closely and established a trusted network of sites across Australia and New Zealand to develop successful patient recruitment strategies that deliver. 
Our industry relationships and established site networks help us deliver, and even overachieve, our patient recruitment and retention targets – enabling the generation of quality data. A recent example of PharmaSols' ability to recruit effectively – we achieved final recruitment of 204% of the initial target in only 26 days. 
In one instance, PharmaSols recruited twice as many patients as our global CRO partner for a US Biotech company. Not only was the recruitment squeezed into a three-month seasonal window, but it also met with issues so unique that there were no established protocols.
Similarly, for a recent COVID-19 diagnostic trial, we recruited 101% of the original patient target in just over a week.
PharmaSols
PharmaSols is uniquely positioned in Australia and New Zealand, one of the world's most trusted and rapidly growing clinical trial regions. With over 20 years of experience in this region and a team of dedicated experts, we support sponsors achieve their patient recruitment targets and collect high-quality data from this region. 
In addition to this, PharmaSols takes a creative problem-solving approach, has a trusted network of experts, and maintains a people-driven attitude, so you can be confident that your trial will remain on track and meet its targets.