15 Sep
PharmaSols CRO Dedicated Study Start-Up Team – Taking Trial Sites From Selection to Initiation Faster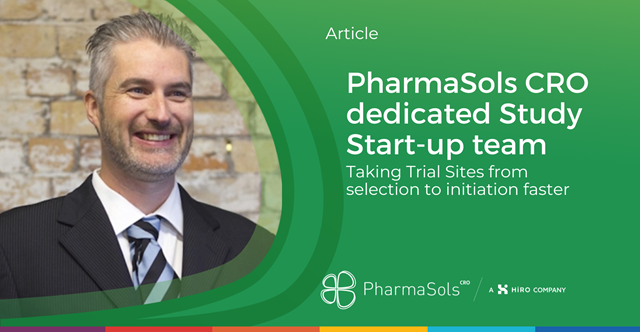 Meet Jorrit Sipkema – Director Study Start-up at PharmaSols CRO, a HiRO company. Jorrit has worked over 20 years in clinical research in AsiaPac and Europe for Pharmaceutical companies, CRO's and Central Laboratories. His experience includes clinical operations, project management and quality assurance both at management and operations levels.
As the Director Study Start-up, Jorrit oversees PharmaSols CRO's dedicated study start-up team - A group of experienced regulatory and clinical professionals accelerating the timelines from Trial Site selection to study initiation.
PharmaSols CRO's Study Start-up team delivers a well-coordinated, collaborative and customized approach to our BioPharmaceutical clients. The team prides itself in providing quicker study start-up times than industry averages, enabling studies to commence participant recruitment faster.
PharmaSols CRO has robust relationships with most Trial Sites in Australia and New Zealand (ANZ). Our knowledge of ANZ Trial Site experience, capabilities, facilities and historic performance enables us to complete Trial Site feasibility and qualification faster and providing our clients with valuable insights on the Trial Sites that are best equipped to deliver for their study.
Our dedicated Study Start-up team understands country-specific and regional regulations enabling us to implement proactive solutions to potential study start-up challenges. Our study start-up specialists will coordinate and oversee clinical trial applications to IEC/IRB and Regulatory Authorities in ANZ on behalf of the Sponsor. They support our clients in developing participant-facing documents (i.e., Participant Information Sheet) meeting local requirements, reviewing IP labels ensuring they meet local regulations, obtaining import / export licenses as required, facilitating Essential Document collection from Trial Sites, negotiating the study budget with Trial Sites, and facilitating contract execution with Trial Sites.
In the past year, Jorrit has focused on establishing PharmaSols CRO's dedicated study start-up team. The team consists of industry experts with many years of experience in the clinical trial industry. They provide clients with local expertise, accelerating the time from Trial Site selection to initiation.
Do you need support for your study? Contact PharmaSols CRO to learn more on how we can support you.