10 Aug
Clinical Trials in ANZ: Harnessing Population Diversity for Recruitment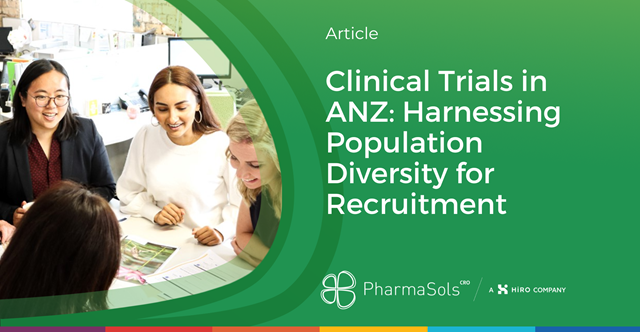 Recruitment and retention of trial participants can often be a critical bottleneck in clinical research. It is widely accepted that almost half of all delays in clinical trials are a result of problems with patient recruitment and retention.  
When it comes to the success of clinical trials, patient recruitment and retention plays a pivotal role. It is imperative to recruit the targeted patient population to obtain high-quality clinical data that meet the standards of international regulatory bodies such as the FDA and EMA. Failure to meet recruitment targets or failure to gather a diverse population pool can compromise the quality of clinical data, leading to potential rejection of the regulatory application by the FDA or EMA.  
The ANZ region offers the perfect setting for patient recruitment and retention in clinical trials. With its diverse populations and proven patient recruitment and retention rates, the ANZ region helps global sponsors collect high quality clinical data.  
Importance of Patient Recruitment and Diversity 
Clinical trials consistently encounter complexities in participant recruitment. Failure or delays in patient recruitment result in trial timelines being unnecessarily extended, costing sponsors a significant amount of time and money.  
The GREET project¹ was initiated to address these challenges by identifying barriers to recruitment and formulating guidance with best-practice recruitment solutions. 
These solutions were broken down into four key themes: 
Assessing Study Viability: Determining a trial's significance for a site and gauging the site's ability and recruitment capacity.

 

Strategic Trial Initiation: This underscores the importance of proactive planning, from training to regulatory approvals and recruitment plan development.

 

Tailoring Recruitment Tactics: This involves identifying and deploying the most effective recruitment methods tailored to each trial's specific needs.

 

Prioritising Participant Engagement: This centres around ensuring participant interests are at the forefront.

 
While all of these themes are key, prioritising participant engagement plays a pivotal role. This underpins the growing shift towards a patient-centric approach in clinical trials. 
The growing shift towards a patient-centric approach in clinical trials fosters greater participant diversity and improved personalised education, increasing the relevance of trials for patients and, in turn, driving engagement and success.  
This shift prioritises inclusion right from trial planning and protocol development to patient recruitment. We need to understand how a new therapy interacts with everybody differently. Being able to bring a more diverse data set and understanding of how that therapy is going to impact and help a more diverse population provides better insight on where potential success of the therapy or product lines. 
Diversity in trials is crucial - "If you aren't including a diverse population, you're missing a large part of what you're really trying to do and understand." 
The ANZ Region Advantage 
A diverse clinical trial population can be made possible through trial location and region selection.  
The ANZ region is renowned for its diverse population and impressive patient recruitment and retention, offers an exceptional solution to patient recruitment challenges.  
Compared to the northern hemisphere, Australian and New Zealand populations are more willing to take part in clinical trials. Data from the ANZ Clinical Trials Registry (ANZCTR) reveals that from 2021 to 2023, ANZ surpassed patient recruitment expectations with a retention rate of 104%². This has been a combination of efforts put in by the Australian and New Zealand governments and a highly informed, willing, and ethnically diverse population spread across the region – making it the ideal choice for patient recruitment for many global sponsors. 
An additional motivation for the New Zealand population to participate in clinical trials in the opportunity to access cutting-edge and highly innovation treatments that are not readily available in the country. New Zealand, across multiple therapeutic classes, such as oncology, is a late adopter of some global standard of care options. This creates an appealing incentive for both key opinion leaders and patients to consider enrolling in clinical trials that could potentially offer novel solutions tailored to their specific healthcare needs. 
Compared to the US and the UK, where an estimated 86% and 69% of clinical trials, respectively, fail to meet recruitment targets, ANZ consistently meets its targets, with only 32% of ANZ trials experiencing recruitment delays1. This reliability ensures high-quality clinical data for global sponsors which is recognised by major international regulatory bodies. 
The Value of PharmaSols in Patient Recruitment & Retention 
PharmaSols understands the importance of patient recruitment and retention in clinical trials, as well as how to leverage the advantages provided by the ANZ region.  
But how can PharmaSols help global sponsors achieve their recruitment targets and generate quality clinical data from their studies? 
Key to successful patient recruitment and retention is having solid relationships with the clinical trial sites. For over 20 years, PharmaSols has worked closely and established a trusted network of sites across Australia and New Zealand to develop successful patient recruitment strategies that deliver.  
We work closely with key leaders and Principal Investigators from the early stages of a trial to review and adapt protocols to the regional specifics. This approach maximises the likelihood of successful patient recruitment and retention, setting our trials on a path to success.  
At PharmaSols, our established relationships within the industry and extensive site networks enable us to consistently exceed patient recruitment and retention targets, ensuring the generation of high-quality clinical data. An example of our efforts is a recent case study where we achieved 204% of our initial recruitment target in just 26 days! 
Similarly, PharmaSols recruited twice as many patients as our global CRO partner for a US Biotech company. Not only was the recruitment squeezed into a three-month seasonal window, but it also met with issues so unique that there were no established protocols. 
PharmaSols 
PharmaSols is uniquely positioned in Australia and New Zealand, one of the world's most trusted and rapidly growing clinical trial regions. With over 20 years of experience in this region and a team of dedicated experts, we support sponsors achieve their patient recruitment targets and collect high-quality data from this region.  
In addition to this, PharmaSols takes a creative problem-solving approach, has a trusted network of experts, and maintains a people-driven attitude, so you can be confident that your trial will remain on track and meet its targets.  
¹Zahren C, Harvey S, Weekes L, et al. Clinical trials site recruitment optimisation: Guidance from Clinical Trials: Impact and Quality. Clinical Trials. 2021;18(5):594-605. doi:10.1177/17407745211015924
²ANZCTR data taken 10th Jul2023, AU NZ, completed trials 2021-2023,169 trials, actual, sample size not blank.