28 SEPTEMBER
Patient Recruitment Targets Exceeded for COVID-19 Vaccine Trial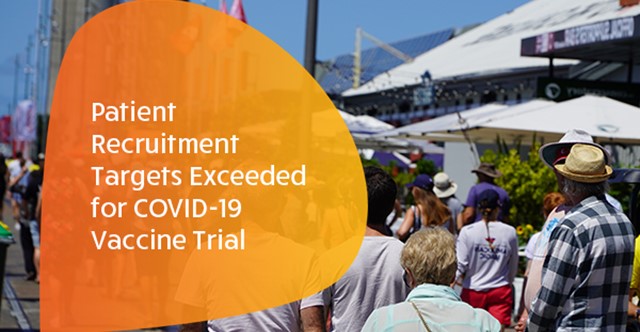 As the pandemic continues to grip the globe, there is an increased demand for rapid solutions within the pharmaceutical industry.

There is a genuine urgent need for organisations to develop COVID-19 vaccines and treatments and for these to be tested appropriately using clinical trials.

Due to PharmaSols unique location and history of successful rapid start-ups, we were engaged by a European specialty vaccine company running a COVID-19 vaccine study. This study needed to be conducted without interruptions caused by the virus itself and with a CRO that could handle tight recruitment timeframes.

Our proven record of flexible and rapid solutions, along with being located in a region with world-renowned pandemic management strategies, meant PharmaSols were the ideal CRO partner selected to take on this challenge.

Challenges
There were several additional challenges while supporting this study:
Tight timelines across participant recruitment
Sudden move into alert level 4 lockdown during the recruitment period
Increase in participant recruitment numbers and the required protocol amendments
Patient recruitment timelines
The initial participant recruitment target for this study was 150 participants within a tight 28-day timeframe. Initially, there were concerns that New Zealand's sudden level 4 lockdown, after an outbreak of the delta variant within the community, may cause interruptions to the study recruitment and start-up.
The New Zealand government's recognition of clinical trials as an essential service allowed the recruitment of participants to continue uninterrupted. However, this sudden move to alert 4 required the immediate implementation of robust COVID-19 management strategies to ensure that the on-going recruitment could operate with the necessary safety of both sites' staff and participants. As soon as the lockdown was announced, PharmaSols worked closely with the Pacific Clinical Research Network (PCRN) and responded promptly to the situation.

On day one of lockdown, 50% of the sites were still able to continue recruitment. 24 hours later, we required all the necessary PPE equipment and implemented COVID-19 safety measures, allowing the remaining sites to re-open their doors and continue participant recruitment.

Recruitment success
This trial saw immense success within just the first four days of the recruitment process. The target of 150 participants was exceeded, with 104% of the recruitment target pre-screened and booked within the first four days of recruitment.

Due to this early success of pre-screening and patient recruitment, the global sponsor decided to re-evaluate their initial patient target. A new target of 300 participants was set, which then presented a new set of challenges.

The increased target participant numbers needed to be approved within the original 28-day timeframe by the Health and Disability Ethics Committees (HDEC).

At PharmaSols, we maintain well-established relationships with a network of organisations, including the New Zealand HDEC team. Along with this relationship, we also have a thorough understanding of their processes, allowing us to successfully apply for the necessary approvals and the recruitment process was able to run without any disruptions.

Outcome
Even in the face of COVID-19 lockdowns, tight timeframes, and a sudden increase in patient recruitment targets, PharmaSols was able to deliver and overachieve the targets.

We achieved a final recruitment of 306 patients, 204% above the initial target of 150, a process which was carried out in only 26 days.