20 Oct
How to Execute a Cost-effective and Efficient Clinical Trial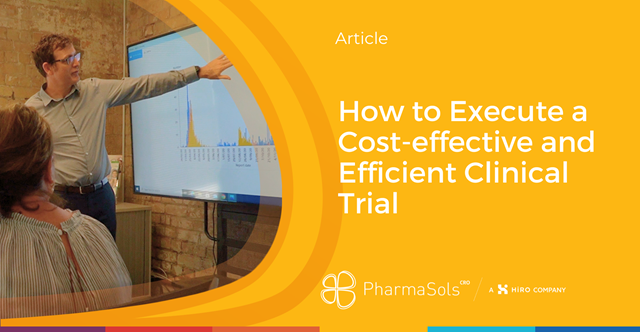 Clinical trials play an indispensable role in the life sciences sector, serving as the cornerstone for determining the safety and efficacy of new medical interventions.  
The stakes are high; inefficient management can lead to considerable delays and increased costs. According to industry research, 45% of trials finish behind schedule¹. 
However, adept clinical trial planning, management, and location can significantly expedite the drug development cycle, enabling swifter access to market.  
Focus on Cost-Reducing Strategies 
Reducing clinical trial costs is crucial, and several strategies can help achieve this without compromising research quality.  
Be strategic about location 
In the planning phase, consider what regions provide the most streamlined and cost-effective benefits. 
Australia and New Zealand (ANZ) frameworks are often more economical compared to other popular trial destinations. Sponsors can receive both direct and indirect savings, with Australia offering a R&D tax rebate of 43.5%. The expedited trial initiation results in substantial savings. Compared to the US and Europe, ANZ's ethics and regulatory submission costs are considerably lower.  
Delays, for any reason, are expensive. Any clinical trial delays can accrue expenses ranging from $600,000 to $8 million daily². Contrastingly, ANZ's trials are up to 60% cheaper than the US. Factoring in the tax incentives, the financial benefits are even more significant. Without tax breaks, early phase trials in Australia are already 28% less expensive than in the US³. 
Managing Compliance and Regulatory Requirements  
Balancing the increasing speed of clinical trials with maintaining compliance can be challenging. However, adopting a few strategies can help reduce these challenges: 
In the early planning stages, create a detailed compliance plan. This plan should define the trial's compliance requirements, pinpoint potential risks, and set procedures to monitor and rectify compliance issues. Training for staff and investigators is crucial to ensure everyone knows their obligations and operates within the required guidelines. 
Part of this plan should include the most up-to-date regulatory standards. As the regulations for clinical trials frequently change, clinical trial managers must continuously integrate these requirements and be alert to any amendments.
Identify ideal regulatory locations  
While countries like the US have complex regulatory systems, the ANZ region offers a more streamlined approach, supporting the rapid start-up of a clinical trial. shaving off up to a year from the trial timeline.  
In addition to this, the costs associated with the regulatory submissions are relatively low compared with many other regions, such as the US and Europe. The ANZ region doesn't require an Investigational New Drug (IND) application. Moreover, the usual Good Manufacturing Practice (GMP) material isn't obligatory for Phase 1 trials in ANZ. This expedited application process facilitates quicker data collection without compromising quality, saving up to a year in regulatory timelines and considerable costs for the sponsor.   
"Other global regions can take 6-12 months longer in the start-up phase of a clinical trial. If you think about it, every day a clinical trial is delayed costs in terms of lost revenue. That cost is often more significant than any tax rebate." - Nicole Elliott Strategy & Finance PharmaSols. 
Remote trials  
If the global pandemic revealed anything, it's how we can still operate even in a shutdown with the use of remote technology, something with clinical research swiftly adopted.  
Decentralised clinical trials (DCTs) use remote technologies, letting participants stay at home, which in turn cuts down costs. Virtual visits, wearable devices, and telemedicine can also help decrease expenses while ensuring data is effectively collected and monitored.  
Using a reliable and secure portal that protects patient data and redacts personal information is an important measure to take, but usability is also critical. Make sure all staff are appropriately trained on how to operate remote monitoring, virtual trials and telehealth capabilities to avoid the risk of confusion and delay. 
Leveraging a dependable and safe platform that safeguards patient records and personal details is crucial. However, ensuring ease of use is equally important. It's essential to properly train all team members on the functionalities of remote monitoring, virtual trials, and telemedicine services to prevent potential holdups. 
Partner with the Right CRO 
Choosing the right CRO can greatly determine the efficiency and cost-effectiveness of a clinical trial. An expert CRO provides expertise, resources, and knowledge tailored to your study's unique requirements.

 

Experience matters: Partner with a CRO that has a proven track record in the therapeutic area of your study. This will ensure they bring forth the best practices and can anticipate potential pitfalls.

 

Global and local expertise: While a global presence can be beneficial for large-scale trials, understanding local nuances is equally vital. A CRO with experience in your chosen region, such as ANZ, can help navigate local regulatory requirements and streamline patient recruitment.

 

Technological expertise: Embrace CROs that use cutting-edge technologies and platforms, particularly if your study incorporates remote trials. They should provide tools for electronic data capture, patient engagement, and real-time monitoring.

 

Transparent communication: Efficient communication channels will ensure that any challenges are identified and addressed promptly, reducing potential delays.

 
Leveraging PharmaSols and ANZ  
PharmaSols is uniquely positioned in ANZ, regions recognised for their rapidly advancing clinical trial landscape. Using our specialist knowledge and relationships in the ANZ region, we help global sponsors to effectively navigate through the regulatory environments and successfully complete their clinical trials, all while ensuring high-quality data. 
Notably, PharmaSols has always been at the forefront of adopting innovative, solution-driven strategies, with a proven track record in providing remote solutions from the beginning of the pandemic. 
Executing an efficient and cost-effective clinical trial is a delicate process that demands thoroughly considered strategies.  
Every choice, from harnessing remote technologies and tactically selecting trial locations to staying on top of compliance mandates, all play a role in the overall outcome. This is where partnerships with organisations like PharmaSols become invaluable.  
The ANZ region, distinguished by its efficient regulatory framework and cost-efficiency, offers an attractive proposition for sponsors. Embracing these optimal practices and staying responsive to the ever-evolving clinical trial domain ensures timely, streamlined, and quality-centric outcomes. 
Sources: 
The Key to Successful Study Start-up: Right Path, Right Start, Right Patients. Available at: https://www.iqvia.com/-/media/library/media-coverage/key-to-successfull-start-up-2020pharma.pdf

 

Accelerating Study Start-Up: The Key to Avoiding Trial Delays (Online) Available at: https://acrpnet.org/2017/02/01/accelerating-study-start-up-the-key-to-avoiding-trial-delays/

 

Report: Australia 60% cheaper than US for clinical trials. Available at: https://www.outsourcing-pharma.com/Article/2016/10/26/Report-Australia-60-cheaper-than-US-for-clinical-trials