22 NOVEMBER
Expedited Timeframes and Exceeded Targets for COVID-19 Diagnostic Trial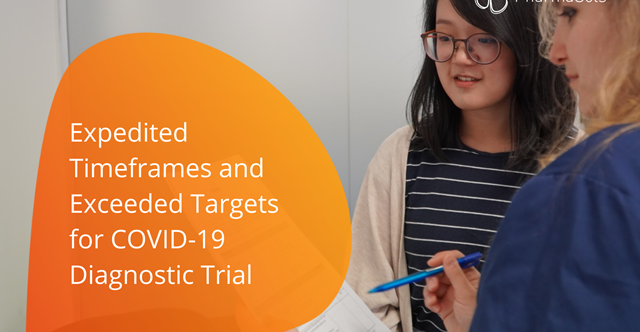 Expedited Timeframes and Exceeded Targets for COVID-19 Diagnostic Trial
With the pandemic still overrunning most of the world, New Zealand's management of the spread and its support of COVID-19 related clinical trials has made it an ideal location for these studies.
There is an urgent need for organisations to develop COVID-19 vaccines, treatments, and improved diagnostic tests and for these to be tested and rolled out to the public safely but quickly.
As PharmaSols has developed a reputation for successful rapid study start-ups and being uniquely positioned in New Zealand, we were engaged by an organisation looking to run a clinical trial for a COVID-19 diagnostic test. It was imperative that this study be carried out without costly interruptions (such as the pandemic has known to cause in other parts of the world) and needed to be handled by a CRO that could manage tight timeframes.
Having a proven record of flexible and rapid solutions, PharmaSols were the ideal CRO partner selected to take on this challenge.
Challenges
There were several challenges while supporting this study:
Tight timelines across participant recruitment
Urgency for the product
Need for rapid ethics and regulatory approval
COVID-19 and New Zealand
The New Zealand government has long recognised the importance of clinical trials and has allowed them to run as essential services throughout varying lockdown alert levels.
In addition to this, New Zealand has expedited ethics and regulatory processes for COVID-19 related trials. As this trial concerned the development of a COVID-19 diagnostic test, PharmaSols was able to achieve rapid E&R approval.
As soon as PharmaSols received the protocol, the first submission was made in just three working days. Within one day of receiving provisional approval, we resubmitted with some amendments to the protocol as per the ethics committee's recommendations.
The ethics committee fully approved this, just 12 working days after the second submission.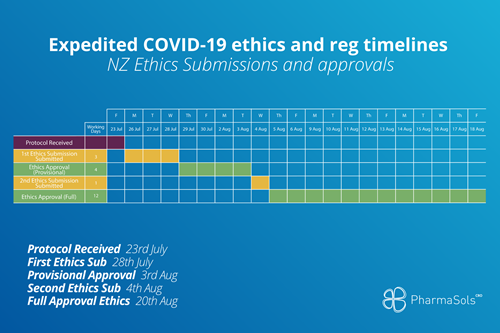 Recruitment success
While patient recruitment is a consistent pain point in the clinical trial journey, PharmaSols has established networks and a patient-centric attitude which helps us achieved patient recruitment targets.
As there has been relatively low rates of COVID-19 transmission in New Zealand, the population is more inclined to participate in studies. Along with that, PharmaSols recognises the value of building processes based on a patient-centric attitude. Having a people-driven team and collaborative networks within the industry aids us in delivering participant recruitment and retention targets.
The timeline from first SIV to first participant first visit was accomplished by PharmaSols in only 5 days. We were able to exceed the original participant target within only a 9 day recruitment period.
New Zealand entered into its second month of lockdown during the recruitment period, as the delta variant had made its way into the country in the previous weeks. Despite this, we were still able to carry out our recruitment process as normal and overachieved our target.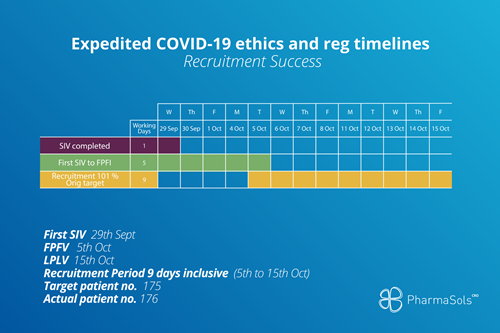 Outcome
In all, PharmaSols received ethics and regulatory approval in only 21 days from receiving the protocol.
Not only was our team able to leverage New Zealand's unique position to receive rapid ethics and regulatory approval for this study, but we were also able to recruit 101% of the original patient target in just over a week.
PharmaSols continues to work towards delivering exemplary results like this while providing high-quality and people-driven dedication.